How to use Web Analytics Tools to Increase Customer Acquisitions for Your Business
Web Analytics Tools

Summary

As a business owner, it can be hard to understand your client base, specifically what it takes to drive interest and increase sales year over year. However, growth is a necessary part of staying competitive, especially in a digital space.

Using web analytics tools, you can follow the trends of your client base and how they relate to your business operations and development.

Web analytics is the data that is collected from your website. Often, this data is collected and aggregated into a web-based tool so that you can improve the results that you're obtaining with that web asset.

With web analytics, you can measure the number of interactions, number of posts, engagements, and what revenue you might be generating with sponsored ads.

Having web analytics helps measure that and achieve whatever goal you set for your organization in a given year.

The Digital Navigator offers guidance on web analytics. Schedule a free consultation today or join one of our masterclasses or webinars.
How to Increase Customer Acquisitions Using Data Analysis Tools and Web Analytics
When thinking about how you want to increase your client base and approach a prospective customer to invest in your product or service, the majority of work goes into the proper marketing strategy.
Business development consultants say to focus on building engagement, educating your prospects, and developing long-lasting relationships with those individuals.
While all of these elements are important, it is difficult to make highly informed decisions regarding your business development strategy without first understanding the true needs of your prospect.
When you adopt data analysis tools, there will be a lot of information to analyze. Therefore, having a specific analysis plan is critical for the success of data interpretation.
The Digital Navigator team created a formula for business development and business analytics teams, especially for the individuals who are not naturally data-minded individuals.
The formula to increase customer and user acquisition is:
Start with a business decision or issue that you are trying to solve
Develop a hypothesis
Analyze specific data points (from the data that you collect from your data analytics tools
Draw a conclusion and adjust your business practices
For example, if you identify that your sales to current clients are decreasing, you may look at your customer base and question, "how do I generate more revenue and profits with those existing customers?"
The business objective here is to increase sales within your current customer base.
Maybe your current customers are not satisfied with the usability of your website. Maybe they are not purchasing multiple products during one online transaction.
Maybe they are not reading the right content. Formulating any hypotheses helps to narrow down the scope of research.
At this point, you may ask, "where can I get information that can help me make a decision that will achieve my goal? What kind of information do I need to analyze in order to make the decision?"
By having a data analytics tool, you can look at statistics of returning visitors and statistics of people that have come to your website at least once. And, because you have thought out your business problem, you will know the specific and correct data to analyze.
You can pull page metrics, user analytics, and web traffic monitoring.
In this example case study, you may analyze how many people visit the cart page but don't end up purchasing. If you see that 70% of your returning customers visited their cart page, this shows that they've added items in their cart, went to look at it, but did not purchase.
Why is that? This is now where you can work through that analysis and determine what action to take with that data.
The Digital Navigator can track everything from the time somebody finds you on Google to visiting your site, to how long they spend on a certain page.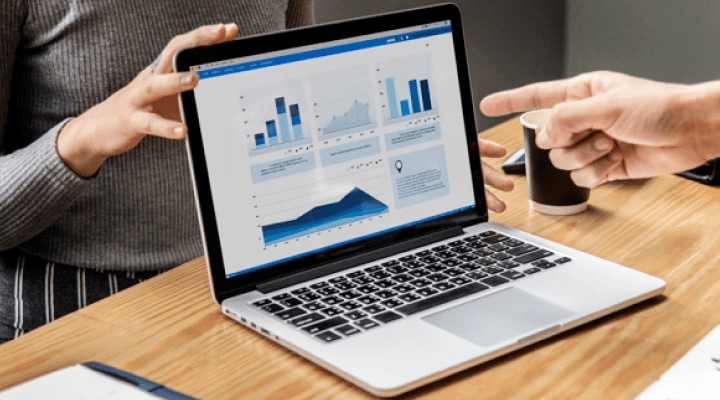 Privacy-Focused Analytics Appeal More to Customers than
Google Analytics
Customers are growing more and more concerned about the privacy of their data and the laws are constantly changing to keep the privacy of clients as the top line of focus. Most notable are all of the changes with the implementation of GDPR (General Data Protection Regulation).
Most companies utilize free web analytic services like Google Analytics. When you use a free service like Google Analytics or even like the Facebook pixel, which is used to track people's interaction, that data then becomes owned by the third party, which would be Google or Facebook in these examples.
These large companies will then track the individual user and follow the rest of their motions on the internet including what other sites they view, ads they click on, videos they watch, etc.
By gathering all of this data, Google is able to create a profile of all the user interactions from their tracking and use the information for advertising, reselling, or whatever they can do to continue to maintain profits.
Therefore, the client's data is not private and you have no ownership of the data – Google does.
As privacy laws continue to evolve and become stricter to protect the rights of individuals against technology platforms from leveraging their data, businesses are struggling to keep up.
As GDPR spreads across Europe, the US is feeling similar waves with the initiation of the CCPA (California Consumer Privacy Act) in 2019.
Close to 20 states are currently adopting laws and regulations in order to protect consumer data and make it illegal for technology companies to use data in the way that Google Analytics currently uses most data.
When you have a private web analytics tool, you can avoid the navigation of data privacy laws. Because the data of clients exists within silos, if an individual visits two different web-pages, the tool does not create a profile by aggregating the data, it stays independent and unique.
We don't take and resell that information, so for that reason, the current legislation allows us to track users without getting their consent first. Thus you are able to use the data to make informed business decisions.
In other words, you will track an individual's actions only on your website, not on others that they may visit before, during, or after yours. Under GDPR, CCPA, and other laws, you must get consent if you are aggregating and reselling the data.
The greatest benefit of using The Digital Navigator's private analytics tool is that you will not have to worry about keeping up with the changing laws – we do that for you. We maintain the legal levels necessary to maintain compliance.
Get Started with Private Analytics
How Can I Use Analytics to Make Better Decisions?
With a firm understanding of how to use business analytic tools to increase customer acquisition and maintain privacy, there are other high-level use cases for analysis tools.
With web analytics tools you can dive deeper into:
Who are your customers –

what type of demographics do you attract? Does this match your marketing techniques and strategy? Knowing your customers allows you to tailor your outreach and content.

Where do the customers come from –

do you garner more attraction from organic search referrals or contact form submissions? Do you generate more leads from webinars or Facebook ads?
Are you currently paying for an ad subscription, if so, how many prospects follow through on those ads?
The Digital Navigator has helped clients save upwards of $7000 that they were spending on an ad agency until they saw their data analytics and realized that little to none of their leads were coming from that effort.
Focus your attention on what works to save time and resources.
What are the specific measurements on a webpage –

what is the click rate on your call to action button? What blogs are actually being read?
Again, these are important questions to consider so that you know where you dedicate resources. This cannot be accurately completed without insight from data analysis tools.
Through web analytics you can also identify:
Time spent on pages (what pages keep the interest of your prospects the longest)
Exit rates (where do people leave your website)
Page visitors (what pages get the most visitors on your site)
Content request forms (track the conversations and conversations from your call to action pages)
The most valuable function that clients target is the ability to create a heatmap from your client's views. A heat map shows you the visual interactions that people are having on that page, for example, how long somebody stays on the cart page.
It is a clear, visual representation of the usage of your site.
There are many other use cases for the data that comes from web analytics tools. Schedule a consultation with The Digital Navigator to learn what value your organization can gain.
Final Thoughts: Web Analytics for Better Business Decision
Designing and executing a business development plan specific to customer acquisition is the challenge of every business.
The organizations that stay competitive and continue to grow year over year are the ones that utilize a web analytics tool to truly understand the needs of their prospects and current customers.
The Digital Navigator works with businesses across all industries and verticals to provide private analytics, specific to your customers. Start learning today and see how your business shifts into a positive space.